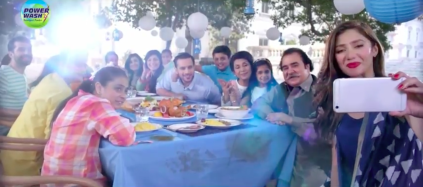 Make BTS videos part of your 2017 social media plan
The need for good quality digital content grew exponentially in 2016 and is set to grow even more in 2017. For brands looking to engage their consumer base beyond the traditional broadcast tvc audience, behind the scene videos or BTS video content provides afforable and effective means to maximise creative assets from existing campaigns and add more milage with engagement on social and digital platforms.
Last year, IndieVisuals had the pleasure of working with some of the leading FMCG brands to produce the makings of their TVCs. This includes Tarang TVCs featuring Fawad Khan and Sonam Kapoor and more recently PowerWash Detergent featuring Mahira Khan.
'There is so much going on during the filming of a TVC but not everything makes it into the commercial due to the short duration', says IndieVisuals Director Jibran Zuberi who produced the making of PowerWash Detergent TVC. 'Our job was to capture the entire filming process and behind the scene actions to bring a differnet perspective to the audience'.
BTS videos offer a new opportunity for brands to extend their campaign on digital by giving the audience something extra, something more that what they have experienced with the tvc campaign and create recall for their brand in the most afforable way.
If you are looking for a team to make a behind the scene video for your production, contact us today for a chat.